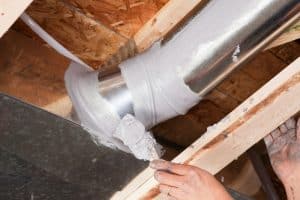 Many homeowners that use central air conditioning systems also use forced air heaters like furnaces in order to heat their homes. If you use a heat pump, of course, you're using that system throughout the entire year. In either case, this also means that you are using yourB air ducts all year long to ensure that you are able to live in the comfort that you deserve. Here's a question that you may not have considered yet, though:
What kind of shape are those air ducts in?
If your ductwork is not in great working condition, then you really cannot expect a great overall performance from your home comfort systems. In fact, damaged and leaking ductwork can negatively affect the condition and performance of your forced air heating and air conditioning systems in a number of ways. Don't believe us? Then read on, and you'll likely be scheduling any necessary duct sealing in Brevard, NC, as soon as possible.B
What Kinds of Problems Are We Talking About?
Quite a few, as we alluded to above. The first point we want to tackle is energy efficiency. Your air ducts are in your home, so you are not wasting energy 100% when they leak. However, your air ducts may well be leaking into areas where conditioned air is not neededbspaces like those between walls, up in the attic, etc.
When that happens, your actual living space is not going to be heated or cooled as effectively as it should be. And whenB that happens, your systems are going to work harder than they should have to in order to heat or cool your home. The result is that you are going to payB more to heat your home. And, unfortunately, that increased price is likely going to be attached to a decreased overall performance.
Your home likely will not heat up or cool down as evenly as it would when the air ducts are in great working condition. Even if just one duct has a leak, the area that it services will probably be slower to level out in terms of comfort. You deserve better than that, which is why you need professional duct sealing.
How It Works (and Why You Need a Pro)
The first step in successfully sealing up leaking ducts is to pinpoint the source of the leak in question. You cannot do this on your own. You may be surprised by just how extensive your air duct system is, and the likelihood of an amateur accurately finding leaks in the system is slim to none. Our team will ensure that all leaks are found prior to actually going in and sealing them up.
This brings us to our next point.
You cannot seal your ducts on your own. And no, duct tape isB neverB to be used in the process. Duct tape does not hold up well to heat or to time in general. It degrades pretty quickly, and won't create an effective seal on ducts. The mastic adhesives that our technicians wield, however, will do the job and will stand up to years of service.
Schedule your duct sealing withB Comfort Central, Inc.