Ductless Mini Split Systems
Complete Ductless Heating & Cooling Services in Asheville
At Comfort Central we believe that everyone deserves to be comfortable in their home year round, no matter what the thermometer outside reads. Many homeowners settle for window units and space heaters or old, inefficient radiators however, due to the fact that their home simply cannot accommodate air ducts. Other homeowners just want to avoid the energy loss issues that are commonly associated with ducted air conditioning and heating systems. Whatever the reasoning behind the lack of ductwork in your home, a ductless mini split system may be just what you need in Asheville, NC.
Contact Comfort Central Today For Ductless Mini Split Repair, Installation, Replacement & Maintenance Services!
What is a Ductless Mini Split System?
As the name implies, a ductless mini split system is a way to heat and cool your home with one convenient system without the use of bulky air ducts. If your home cannot accommodate a ductwork system or you simply want to circumvent the expense of a ductwork installation project, ductless mini splits are a great solution. Enjoy central heating and cooling convenience while eliminating the need for air ducts altogether with the installation of a ductless mini split system.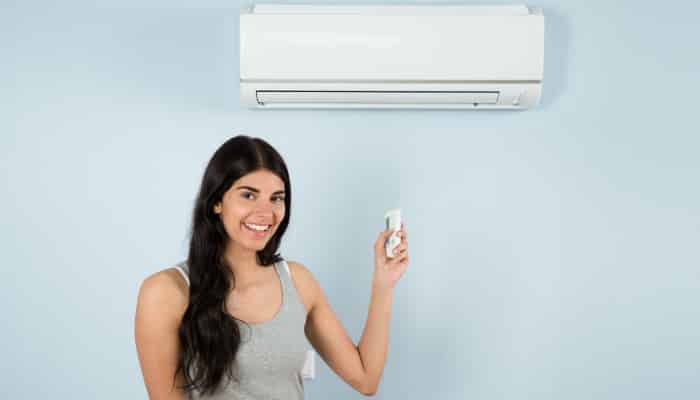 Ductless Mini Split System Installation Services
Ductless mini split systems make the installation of other heating and air conditioning systems look incredibly involved. An outdoor unit containing the noisy components of the heating and cooling system is installed outside, as with other central comfort systems. Rather than using an air duct system to distribute conditioned air throughout your home, though, individual blower units are installed in different rooms of your house. These indoor, wall mounted blowers are connected to the outdoor unit with a simple conduit, requiring just a small hole to be drilled in your wall to connect them.
The installation of a ductless mini split system in your home must be handled by a professional. Our highly skilled and extensively trained technicians can ensure that you get a properly sized system and that it is correctly installed for maximum efficiency and performance levels. By setting up different controls for the individual blowers we can even make zone controlled heating and cooling a simple way for you to boost efficiency levels further.
Ductless Mini Split Maintenance & Repair Services in Asheville, NC
With professional installation your ductless mini split system will perform as intended and, by scheduling routine maintenance service, you can make sure that it stays on this path. There is no better way for you to get the high quality, efficient performance you want from your ductless heating and cooling system than with regular, professional maintenance. Allowing a member of the Comfort Central team to tune up your system makes it possible for that system to work as intended. Do not let general wear and tear reduce the performance levels of your ductless mini splits.
When you need ductless heating and cooling system repair services in Asheville, NC, schedule that service as soon as possible. The longer a problem with your ductless mini splits goes unaddressed the more likely it is that that problem will require costly, extensive repairs. Maintain the integrity and performance of your system with high quality repair services.