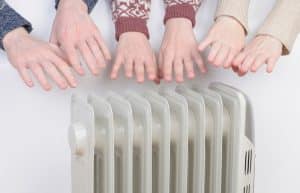 No, we are not saying that you should reflect on your wins and losses throughout the course of this past heating season, though certainly, this type of introspection has its benefits. What we are recommending is that you take stock of your heating system and how it performed over the course of this past heating season. Were you satisfied with its performance in every way? If not, why? And, most importantly, what do you think you should do about it?
In some cases, replacing that heating system in Asheville, NC, may be the right decision. This is obviously a major investment for the majority of homeowners, so it is not a decision that you should rush into.B So, if you do think that this may be the last year for your existing heater, feel free to reach out to a member of our team. We're happy to help you decide if a replacement is the right move for you.B
How Did Your System Perform?
In most cases, homeowners are going to start thinking about replacing their heaters because they've noticed that those heaters are not functioning well anymore. Does a subpar heating performance mean that it's definitely time to replace your heater?
No, not really. But it's a good place to start.
There are a lot of reasons why your heater may fail to impress. Have you been diligent in scheduling routine maintenance? If not, then having your system tuned up and keeping it tuned up may be the solution. You may also need a single repair, not a full replacement. Of course, your heater may also still be functioning decently while warranting a replacement. Why?
Your System Isn't Efficient Anymore, YouB Say?
A common complaint that we hear from homeowners is that their heaters are not functioning efficiently anymore. Now, this could be the result of any number of problems, including (again) subpar maintenance practices. However, it could certainly inform the decision about whether to repair or replace. This is definitely the case if youB knowB that your heater just isn't capable of an efficient performance.
Did you invest in a pretty inefficient system at the time of purchase, because you wanted to save some money up front? That's understandable, but keep in mind your current finances. If you can afford to replace your system, you may want to even if it is still technically working decently. That initial investment can be offset over time by the money you save in heating expenses.
Just How Old Is Your System?
We purposely did not start with this one, because too many homeowners seem to think that an oldB heater is a heater that needs to be replaced. This is not the case, and many heating systems will continue to function both efficiently and effectively even beyond their projected lifespan, provided that they are well-maintained.
However, if your system is ailingB andB it is quite old, you're right to think twice about spending much more money on repairs. Replacing it may be the best option if it's on borrowed time as it is.

ContactB Comfort Central, Inc. today to have your heater replaced by a qualified professional.

Now Is Definitely the Time to Tune Up Your AC! » « Late Season Heating Repairs Are Always Worth It!